Secret RF is a radio frequency (RF) fractional microneedling system that improves signs of aging skin, fine lines, wrinkles and scars. Treatments are suitable for patients seeking skin revitalization and are customized to address individual skin concerns and needs. Secret RF Microneedling is safe and effective, and suitable for all skin types.
Secret™ RF Reviews
"I'm so excited to see the difference in my skin since doing the Secret RF treatments! To see the before and after photos are shocking to me! My pores look so good! The deep lines I've had have almost diminished!! I'm beyond pleased! I recommend the Secret RF treatment! Dr. Desai and the staff are wonderful too! She put a plan together for some of the areas I wanted to focus on and I'm so incredibly happy with how it is working!"
- D.L. /
Google /
Jul 29, 2019
"I saw significant results from my Secret RF procedure. I have seen a huge improvement in the texture of my skin. I am extremely happy with the results and recommend this treatment since there is minimal downtime. Dr. Nina Desai was very informative about my options and addressed my concerns. Trusculpt Flex is perfect for my busy schedule, I'm in and out of the office in 45 minutes and can resume the rest of my day. I can already see the definition in my treated areas, super excited!"
- P.J. /
Google /
Jun 29, 2020
"I am beyond excited about my skin since having the Secret RF treatment! The lines have diminished! My jowls look SO much better! My pores are smaller. I had my first treatment in October and my before and after photos are incredible! I highly recommend it! I am so thrilled with the outcome!!!"
- D.L. /
Facebook /
Mar 06, 2019
Previous
Next
Secret RF uses micro needles to deliver fractional Radio Frequency (RF) energy into varying levels of the skin including the deeper layers where treatment is most beneficial. Unlike other devices which only deposit energy in surface of the skin, Secret RF delivers energy below the surface where it's needed most to help revitalize and regenerate the tissue.
Benefits of Secret RF: Improves signs of
Fine lines & wrinkles

Scars/Acne Scars

Skin Tone & texture

Photodamage
What is the Secret RF procedure like?
Secret RF is a easy, safe and effective procedure that can be performed in the office with minimal down time. Prior to the procedure, your provider will apply a numbing cream to the treated area for increased comfort. During the treatment, you may feel some heat and pressure on the treatment area.
What can I expect after my procedure?
After the treatment, an ointment will be applied to your skin and you will be asked to refrain from wearing make-up for several hours. Any minor redness, or swelling from the treatment will subside within 12 - 24 hours. After the treatment, you can expect to return to normal activities.
Before & After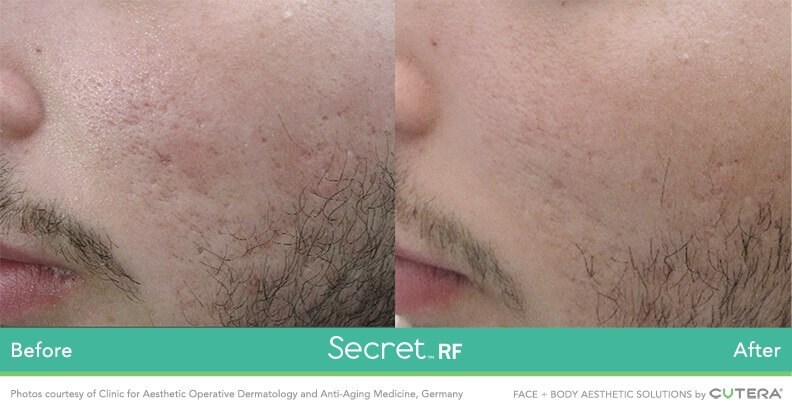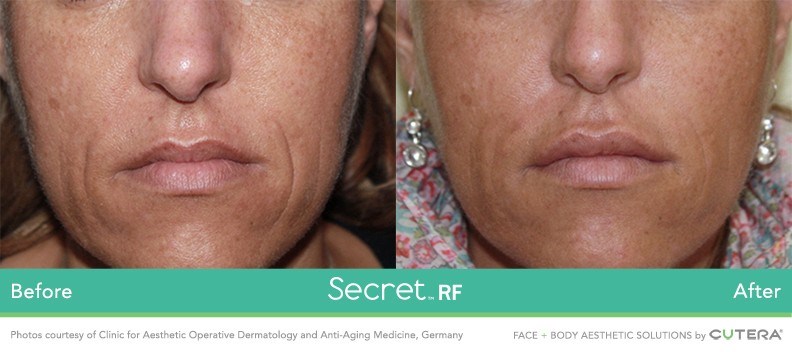 Related Procedures
Related Posts